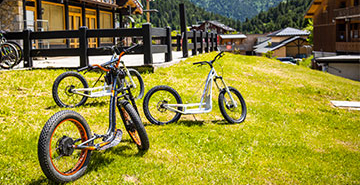 All-terrain electric scooters
EM Skate is offering a new activity this summer: E-Fatscoots. Half way between a mountain bike and a scooter, Fatscoots are fun and offer unique thrills. As they are easy to handle, they can be ridden by everyone.

They are ideal for an outing with family or friends, which can be as gentle or sporty as you like! Enjoy eco-friendly excursions on these all-mountain electric scooters, which give you the sensation of gliding at speed (at up to 30km/hr) in complete safety.

Discover this original activity in the unique landscapes in the heart of les 3 Vallées. You will be accompanied by instructors so you make rapid progress. With a choice of three different speeds, this activity is suitable for all.